Keith On
The Sound of Tango
An audio person like me hears viintage tango music and knows the reproduction should sound better. Why doesn't it? Well, that's an interesting story.
Coming from a life in recording studios and mastering labs, in 2001 I started to work on the audio quality problem.
That is now 4,000 songs ago.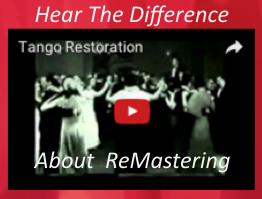 Now for 10 years top DJs around the world play ToTANGO's remasters in milongas every night of the week. And some on the radio.
Fresedo - La clavada
Tanturi - Pocas palabras
Laurenz - Arrabal
More on Artist pages